Helmer Leads By 2-To-1 Margin In PH Mayoral Race
Serving Chicago's Great Northwest Suburbs

Congratulation's Mayor Nick Helmer and 3rd Ward Alderman Wendy Morgan-Adams
By Tom Wessell | on April 02, 2019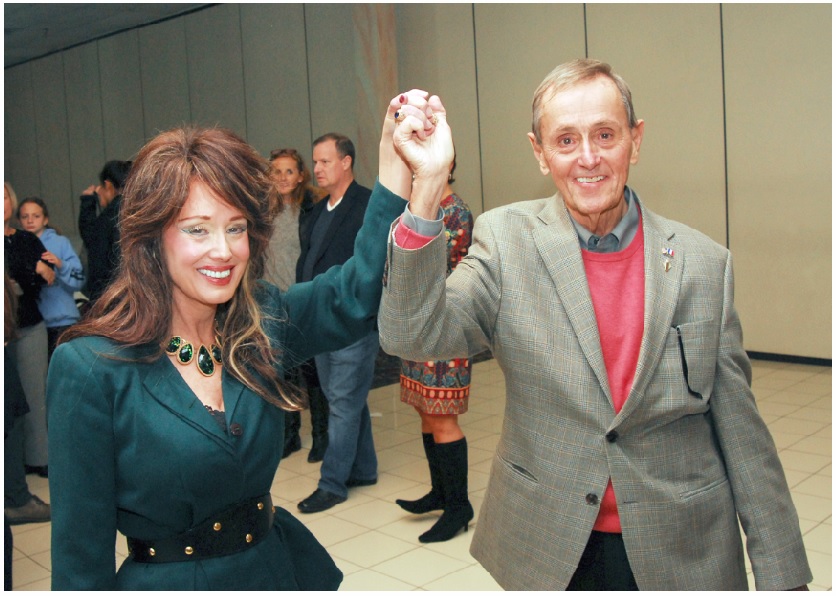 By Tom Wessell | on April 02, 2019
City Clerk Wendy Morgan-Adams and Mayor Nick Helmer celebrate on a victorious election night Tuesday (April 2) at Atlantis Banquets in Prospect Heights. Voters in the 3rd ward elected Morgan-Adams to her first term as an alderman, while Helmer appeared on his way to a third term as mayor. (Shawn Clisham/Journal photo)
Nick Helmer appeared on his way to a third consecutive term as Prospect Heights mayor in Tuesday's (April 2) consolidated election.
Helmer, who announced his re-election bid last summer, said if victorious, this would be his last term. He held off a challenge from Ald. Larry Rosenthal (2nd) who announced in October he would make his first run for the city's top elected office.
"It's not over yet," said the 76-year-old Helmer who gathered with supporters Tuesday night at Atlantis Banquets on Rand Road. With eight of the city's 11 precincts reporting, Helmer held a 68% to 32% lead over Rosenthal. However, due to an "equipment problem" in at least one polling location, both sides were still waiting for the final tallies after 10 p.m.
"I think I'll be fine," Helmer later remarked. The mayor jumped out to a 3-to-1 margin as results started coming in earlier Tuesday night.
Economic development emerged as a top issue in the race as Helmer — leader of a non-Home Rule community that does not collect a general property tax — sought to continue projects already started. Among them: keeping city finances solvent, focusing on flooding and drainage issues, maintaining city streets and upholding a positive image for the city.
In his campaign, Rosenthal focused on improving transparency and community involvement. Because he ran for mayor, however, and not alderman, Kathleen Quinn ran uncontested for the city council's 2nd ward seat that's belonged to Rosenthal for the last four years.
Helmer described the mood at his election night rally as "euphoric…we're pleased with the results thus far."
In the city council's only contested race, Wendy Morgan-Adams defeated Betty Cloud for 3rd ward alderman with 58% of the vote. Morgan-Adams celebrated with Helmer at Tuesday's election night party.